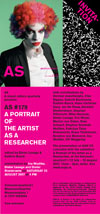 Book Presentation by
Ina Wudtke, Dieter Lesage and Dieter Roelstraete on

SATURDAY 25 AUGUST 2007 at 4 PM

freiraum/quartier21
MuseumsQuartier
Museumsplatz 1
A-1070 VIENNA
free entrance

AS – A visual culture quarterly
presents
AS#179
A Portrait of the Artist as a Researcher
edited by
Dieter Lesage & Kathrin Busch

with contributions by
Herman Asselberghs, Elke Bippus, Sabeth Buchmann, Kathrin Busch,
Hans-Christian Dany, Jan De Pauw, Diedrich Diederichsen, Stephan Dillemuth, Mika Hannula, Dieter Lesage, Eva Meyer, Marion von Osten, Eran Schaerf, Stephan Schmidt-Wulffen, Felicitas Thun-Hohenstein, Klaas Tindemans,
Beatrice von Bismarck, Ina Wudtke, Ulf Wuggenig

The presentation of AS#179 coincides with the exhibition A Portrait of the Artist as a Researcher, at the freiraum/quartier21 (12 July – 26 August 2007, 10am – 8pm, daily). See www.mqw.at.

AS is a publication of the Museum van Hedendaagse Kunst Antwerpen (MuHKA), Belgium. AS#179 is supported by the Alfred Toepfer Stiftung F.V.S. (Hamburg), the Universitätsgesellschaft Lüneburg e.V., and the Institute for Drama and Audiovisual Arts of the department Rits (Erasmushogeschool Brussel), research project Re:RESEARCH (2006-2008).
AS#179, A Portrait of the Artist as a Researcher, Summer 2007, 152 pp., ISSN 07735855, price: 8,- ¤ excl. shipping costs: for orders please contact: as@muhka.be. See www.muhka.be.